BLANCO
ACTIVATED CHARCOAL TOOTHPASTE
Wash away the day with BLANCO: our luxurious night-time activated charcoal toothpaste. Our completely unique blend of safe, natural ingredients works all night to keep your mouth clean and bacteria free, effectively whitening teeth while still being gentle on your mouth.


Activated charcoal is known for being a great natural, safe alternative to chemical peroxide for whitening the teeth that won't damage enamel. It's become a very popular ingredient recently in the holistic self-care industry, but our unique formula comes from over 25 years of research and study. So you can rest easy knowing you're getting the safest, most effective product on the market.


We've combined just the right amount of bamboo charcoal-base with a distinct blend of anti-sensitivity aloe, anti-bacterial essential oils, and other 100% organic, plantbased ingredients for a natural toothpaste that works all night to fight bacteria, safely whiten teeth, and keep breath fresh.
BENEFITS
Fresh, Clean Taste
Alleviates Dry Mouth
Moisturizes Gums
Prevents Cavities
Fortifies Enamel
Freshens Breath
Whitens Teeth
Anti-Sensitivity
Non-Toxic
ATTRIBUTES
Biodegradable
Made with Non-GMO Ingredients
Fluoride-Free Sodium Lauryl Sulfate (SLS)-Free
Triclosan-Free
Carrageenan-Free
Gluten-Free
Sugar-Free/Xylitol-Free
Free of Artificial Flavors and Colors
Free of Heavy Metals and Synthetic Chemicals
Vegan


Estrella is a 100% safe, 100% effective natural toothpaste that removes plaque, whitens teeth, and tastes great.
Formulated with all-natural ingredients that are:
• Good for YOU
• Good for the PLANET
• Good for your PEACE OF MIND
All NATURAL & ORGANIC
We are proud to say that anyone can read our ingredients without the use of a dictionary.
MADE IN THE USA
Each of our toothpastes and hard goods are created by a local manufacturer in Los Angeles, CA.
CRUELTY FREE
Our products are never tested on animals and we are extremely against animal-testing for products of any kind.
VERIFIED BY CUSTOMERS
We think we have a pretty good thing going here, but you don't have to take our word for it, see what our customers are saying about us! See our 'Reviews' tab in the menu above :)
Shop with us

today

and see the Estrella difference!
The 100% No-Risk Promise
Order right now with confidence!
Try Lita out for
30 days
and if it doesn't work for you, you'll get your money back! There's absolutely
no-risk in giving it a try.
No questions asked, you can get your money back!
1 TUBE
BLANCO -

ACTIVATED CHARCOAL TOOTHPASTE
2 TUBES
BLANCO
- ACTIVATED CHARCOAL TOOTHPASTE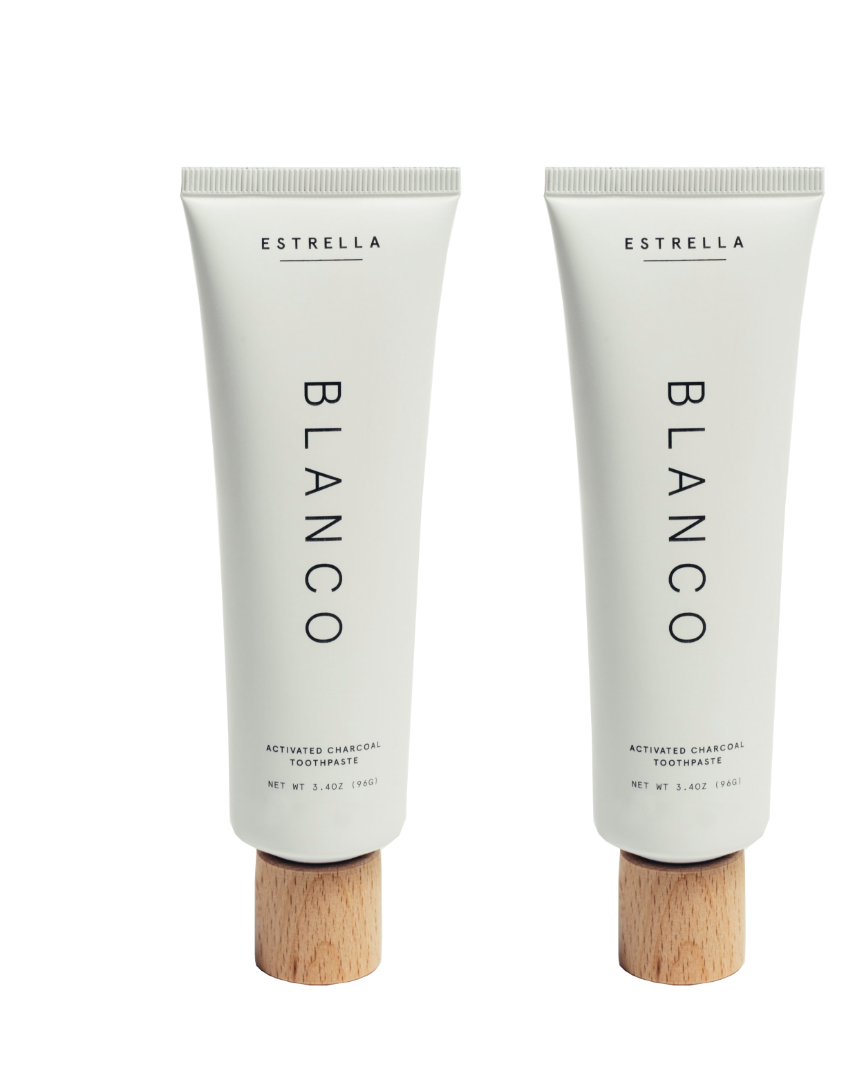 3 TUBES
BLANCO
- ACTIVATED CHARCOAL TOOTHPASTE
Save 28%!